Edelman Productions
39 Mesa Street, Suite 212A
The Presidio
San Francisco, CA 94129
ph: 415-924-8000
Productions > Decorating Cents
Decorating Cents
show description:
Looking to give a great new look to the interior of your home...for less? Let host Joan Steffend show you how to give a room a dramatic makeover--for under $500!
You'll meet homeowners from around the country who have used a little money and a lot of creativity to create terrific new looks.
---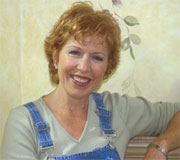 about the host:
Home decorating enthusiast Joan Steffend loves to make homes look great...for less! A homemaker during the week, Joan is also a well-respected weekend anchor and special host for NBC affiliate KARE-TV in Minneapolis, Minnesota.
She has won regional, national and international awards for reporting, including a national Emmy.
For more information, visit HGTV.com/