Edelman Productions
39 Mesa Street, Suite 212A
The Presidio
San Francisco, CA 94129
ph: 415-924-8000
Productions > Fresh Coat
Fresh Coat
show description:
Shannon Kaye hosts Fresh Coat, a makeover show that uses just paint.
Homeowners learn tips, tools and techniques for easy do it yourself paint projects.
The program illustrates how color and imagination can completely change the look and feel of a room.
---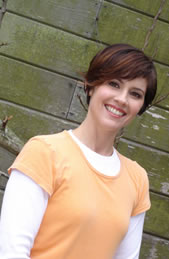 about the host:
Born in Portland, Oregon, Shannon was raised with a house full of kids and a mother who decorated all their rooms with colorful paints and crafts. Her mom was always solving decorative problems with fun thrifty ideas. And though her first love was piano, her own love of color and paint took over in 1993 when she began attending the Academy of Art College in San Francisco. Immersed in interior and industrial design classes Shannon made ends meet drafting floor plans for a real estate company, managing production of a specialty chandelier project, accompanying for children's theatre in Marin, and selling custom furniture at Shabby Chic, an upscale furniture boutique. She pursued anything that provided opportunities to learn more about art and design. Then she met Page Kelleher whom she apprenticed with for a year. "Besides basic faux finishing techniques she taught me to really appreciate all the elements and nuances that make up the surfaces we see everyday. She taught me the true art of color - how to see it and how to recreate it. She also showed me how to live as a professional artist."
Five years ago Shannon decided to go out on her own and today enjoys a successful decorative painting career. She's painted in Florida, New York, and the San Francisco Bay area. She's painted for the Pottery Barn Kids catalog and most recently for an upcoming design show soon to be aired on HGTV. Her work was also be seen in an article for Mary Engelbreit's Home Companion magazine featuring the interior design team of Linda McFalone and Laura Ziffer, owners of luluPom. She continues her education through ongoing classes from great instructors such as Aaron Cohen of Seattle Architectural Finishing School (www.seattleafs.com).
Shannon presents her unique wall finishes in a fine art format. Textures, layers, and patterns culminate into rich deep surfaces often reminiscent of the old wallpapers and vintage textiles that inspire her. She creates layers with her budding paint color collection, builds texture with a variety of tools and plasters, and designs patterns with thoughtfully laid and detailed stencils, mostly of her own design. "Whether I'm painting a whole room or a small canvas, I want to create surfaces that beg to be touched. I love things that look like they've aged gracefully- like they have a story to tell."
For more information, visit DIYNETWORK.com