Edelman Productions
39 Mesa Street, Suite 212A
The Presidio
San Francisco, CA 94129
ph: 415-924-8000
Productions > Landscape Smart
Landscape Smart
show description:
Each episode of this weekly series focuses on a single landscaping project, usually completed by everyday homeowners with the help of landscaping professionals.
Follow the step-by-step action to create beautiful outdoor living spaces in less time, with less effort and at lower cost. Tips and feedback from homeowners are also featured. The 100- through 900-series episodes are hosted by Ken Bastida. Paul Ghiringhelli hosts the 1000s and up.
---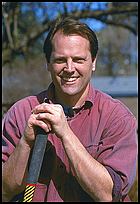 about the host:
Paul Ghiringhelli hails from the San Francisco Bay Area and has been a part of the broadcasting community for close to 25 years. He has worked as an on-air talent in both radio and television and has performed in a number of productions for local, regional and national commercials. He has been a DJ, television producer, radio production director and actor, and continues to work in all aspects of the business, including television, theatrical films and voice-overs.
In addition, he has shared his insights as an instructor with the San Francisco Actors Academy. He has also been fortunate enough to have worked with Ashley Judd, Jeff Bridges, Dennis Franz, Don Johnson, Cheech Marin, Peter Weir, Carl Franklin, Finn Taylor, Jack Warden and John Rubenstein, to name a few. He continues to live in the Bay Area with his family, whom he cherishes.
For more information, visit HGTV.com