Edelman Productions
39 Mesa Street, Suite 212A
The Presidio
San Francisco, CA 94129
ph: 415-924-8000
Productions > M3
M-3
show description:
The new series MAN, MOMENT, MACHINE (M3) explores the history-making intersection between a dynamic leader, a significant moment in time and an important technology.
Hosted by former Navy fighter pilot Hunter Ellis (host of THC's Tactical to Practical), the series is shot on location to illustrate these historic triads--walking in the shoes of the man, reliving the moment and operating the machine that came together to make history.
---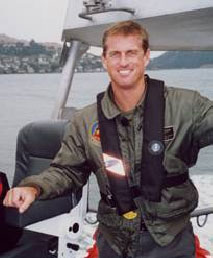 about the host:
Hunter Ellis is a former Navy Fighter Pilot with over 10 years of military service. He completed two Middle East deployments in support of Operations Southern Watch and Desert Strike and accumulated over 2000 flight hours and 433 carrier landings. A qualified F/A-18 Flight Demonstration Pilot and third generation Naval aviator, EllisÍ father and grandfather, Vice Admiral Donald Engen, both commanded aircraft carriers; his grandfather was the Administrator of the FAA under President Ronald Reagan, and helped found the Udvar-Hazy Center of the National Air and Space Museum in Washington, D.C. After completion of his service, Ellis became a pilot for a major shipping company.
Previously, Ellis was the host of The History Channel series TACTICAL TO PRACTICAL where his energetic spirit led him to the center of countless heart-stopping adventures. He has skydived solo with the ArmyÍs Golden Knights, flown with both the Blue Angels and Thunderbirds, and jumped out of helicopters with the Coast GuardÍs rescue swimmers, just to name a few, leading People Magazine to name him as one of the sexiest men on cable in 2003. Ellis has traveled to over 30 countries, and in his free time continues to seek out new and exciting challenges. A graduate of the University of Southern California, Ellis currently resides in the Los Angeles area.
For more information, visit HistoryChannel.com