Edelman Productions
39 Mesa Street, Suite 212A
The Presidio
San Francisco, CA 94129
ph: 415-924-8000
Productions > Tactical to Practical
Tactical to Practical
show description:
The History Channel's Tactical to Practical explores incredible inventions and surprising technologies that, born in the midst of conflict, have evolved into new and exciting applications for civilian life.
Hosted by Hunter Ellis, the show features military-born technical wonders such as the Humvee, night vision and GPS, and their surprising new applications ouside the military arena.
---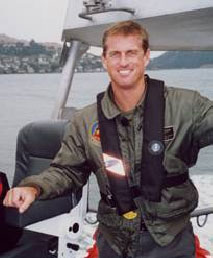 about the host:
Hunter Ellis is a former Navy fighter pilot and carrier aviator with over 2000 hours in the F/A-18 Hornet, TA-4J Skyhawk, T-2C Buckeye and T-34C Turbo Mentor. Completing two Middle East deployments in support of Operations Southern Watch, Desert Strike and Desert Fox, Hunter made 433 carrier landings--over 100 of them at night.
He's qualified as an F/A-18C Flight Demonstrations Pilot and Landing Signals Officer, and upon serving 10 and 1/2 years with the United States military, he is currently a pilot for Federal Express. Many may recognize Hunter as a contestant from the popular TV series "Survivor: Marquesas."
For more information, visit HistoryChannel.com