Edelman Productions
39 Mesa Street, Suite 212A
The Presidio
San Francisco, CA 94129
ph: 415-924-8000
Productions > WoodWorks
WoodWorks
show description:
The DIY Network's pioneering show in the field of advanced woodworking, WoodWorks demonstrates the creation of an outstanding woodworking project in each episode.
Join Master Craftsman David Marks as he guides you, with insider's knowledge, through the step-by-step process.
---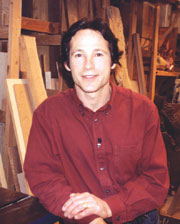 about the host:
Master woodworker David Marks first became interested in working with wood as a college student in California. The New Jersey native started by creating small items from driftwood found along the beach and selling them in craft shops and at street fairs.
By 1981 his restoration work was in such demand that he opened his own shop. At about the same time he signed up for a weekend workshop conducted by members of the Baulines Craft Guild--and his career took off into a whole new direction. No longer content to create pieces in a more traditional idiom, he began drawing on his early exposure to New York City's art museums.
Today, despite the fact that Marks is active as a craftsman, a teacher and a leader in the crafting community, he nonetheless continues to expand his artistic horizons. Marks' love for his craft and his dedication to its advancement make him a popular instructor, and he bring to his teaching the same commitment he has always shown for his art. That, coupled with his genuine love for teaching, makes him the natural choice to be the host of WoodWorks.
For more information, visit HGTV.com